Choosing Bakery Boxes for special occasions
Bakery products are consumed on different occasions. The main reason for their likeness is the scrumptious taste and tempting aroma which makes them different from other house cooked food items. The cake is the most popular bakery item. It is the centerpiece of all celebrations. Whether its birthday, bridal shower, wedding, anniversary or New Year, your preparations are incomplete without a cake. Muffins and cupcakes are presented along with it. Other bakery items like pizza, donuts, pastries, and patties, etc are also consumed side by side. No matter wherever is your event, these bakery products travel a long distance to reach the venue. Bakery boxes play a significant role in this regard. They are designed keeping in mind the delicacy of the items. These food boxes keep the products safe during the transition and prevent them from spoilage, damage or mishandling. Premium quality Kraft paper is an eco-friendly material which keeps the bakery items away from contamination by any toxic substance.
•
Design According to the Theme of Event:

The manufacturers design bakery boxes according to the theme of the event. This makes everyone recognize the nature of the festivity. For example, if its Christmas season or New Year celebration, you can create limited edition custom food boxes. Design them according to the Christmas theme. Use interesting images like snowy trees, jingle bells, and Santa Clause for an attractive look. You may also attach labels on the bakery boxes with a wish "Merry Christmas" or "Happy New Year". Such customized packaging grasps the attention of everyone and no one can stay away from the celebrity their festivity with bakery boxes.

Birthday is one of the common events where cake is the most essential item. Instead of presenting your cake in traditional packaging, design custom cake boxes having the name and a wish for the recipient. Print the boxes according to the birthday theme. Make use of different colors to provide an eye-catchy display. Such personalization makes the customer feel special. Moreover, it's a useful tactic to retain your existing customers and attract the new one. Similarly, bakery boxes are usually used on bridal or baby shower celebrations to be given as takeaway boxes. You can design little cookie boxes or cupcake boxes in a delicate way to represent the nature of the event. Use the pink color is coming baby is a girl and blue in the case of a boy. Such fascinating food boxes will make people remember your event for long.
•
Highlight Your Brand:

Designing bakery boxes for different occasions not only inspire the customers but it is also an effective way to highlight your brand. It increases your popularity and shows your potential to design highly customized packaging according to the nature of the event. No matter in whatever way you customize the bakery boxes, never forget to highlight your brand's name and logo on it. They act as a symbol of remembrance and make people think of you for their next celebration. You also have a good chance to target a huge market with a number of potential customers. Where ever you bakery box goes, it promotes your brand. There is a great chance that some other guest may get inspired by your product or its presentation and contact you. Thus these specially designed custom food boxes are the perfect way to promote your brand.
•
Introduce Various Add-on Options:

In addition, to customize the bakery boxes for a special occasion, you can also introduce different add-on option based on the requirement of your product. This makes your packaging highly appealing and different from others in the market. Some of these innovative features are discussed below:
1)
Compartments or Inserts:

Nowadays, most of the bakery boxes are designed with compartments and inserts especially the one for muffins, cookies, and macarons. It is a convenient method as different types of items can be placed in the same box without spoilage and mixing their taste. Inserts hold the items at its place with almost no movement. This reduces the risk of the smashing of your lovely creations.\
2)
Window or Die-Cut Patterns:

One of the most effective ways to increase the attractiveness of your bakery boxes is to introduce transparent window or die-cut patterns. This facilitates the customers in having a great view of the tempting delights even before opening the box. The use of window panes is a useful tactic especially for the products which have an attractive presentation. This also stimulates customer purchase behavior. You can design the windows or die-cut patterns in any shape and size according to the requirement of your product. For example, if you are making a two-tiered cake for an anniversary celebration, you can create a long window on one side of the box to provide a fascinating display.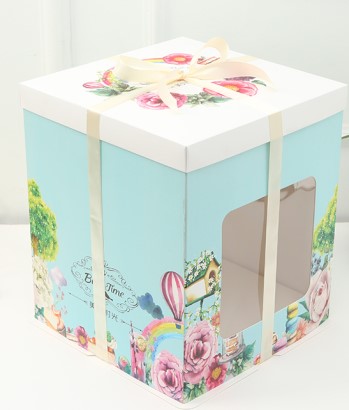 3)
Built-in Handles:

Another interesting idea is to introduce innovative built-in handles on your

bakery boxes

. Customers always prefer functional and easy-to-use packaging. Introducing handles on the top the box itself eliminates the use of any additional packaging like paper bags. Moreover, this unique idea highly

inspires customers

. They can easily carry their product without the risk of getting mishandled. Even you can introduce handles on small cookie boxes to be given as favors to kids. Such boxes are designed from special templates which have a built-in handle. It pops up automatically when the boxes get assembles.