Motivational Food Packaging that will Change your Mind
No matter which product you are selling, the design is everywhere including the food sector. Attractive packaging is important to make your products captivating in the eyes of people. It creates a positive and memorable image of your brand. An innovative food packaging design shows the customers that they are going to get a high-quality product inside. Well-designed food boxes promote craving. They not only protect the edibles but also make them more tempting for the consumers by giving a perfect display. The packaging box manufacturers have been working on a series of motivational food packaging ideas for years. Whether you are serving your customers in a place or giving takeaway, an amazing design is necessary to impress them. Here we are going to make a big contribution to the marketing game by highlight some of the best motivational food packaging ideas:
• To Go Classic Fries Carton:
This ingenious packing for fries and chicken wings is one of the most inspiring ones. It is much better than those traditional French fry trays where everything is at risk of falling off. it not only offers a unique handle for carrying but it also has two compartments for safe storage and easy dipping of sauces like tomato ketchup, chocolate sauce, or garlic mayo. Additionally, there is a clip-on module to store a serving of chicken wings in case you feel the craving.
• Pizza with Plates:
You might have experienced that takeout containers wholesale or food tray sleeves are usually used for deliveries. Pizza is one of the most widely consumed takeaway items. Ordering a pizza from outside is a good way to avoid the fatigue of making it at home. However, afterward, you have to deal with dirty dishes especially if you have guests for dinner. These motivational wholesale food boxes are designed in a way that they can be torn into serving plates. In the case of any leftover, just fold the bottom to make a compact little food box and store it in the fridge.
• Transparent Cookie Boxes:
These custom cookie boxes are perfect to motivate anyone to purchase your products. The packaging is designed by using a clear plastic container, where cookies are placed delicately inside. The customers feel the delight to view them through transparent cookie boxes wholesale. This helps in accessing its quality, texture, and freshness.
• Simplicity with a Touch of Color:
Food and beverage boxes are commonly designed in bright colors to arouse hunger. But this eco-friendly packaging is a true motivation for brands. The design looks simple and elegant at first glance but to understand its impact, just have a look at its genius details. A basic palette like this can take your brand much forward. Never forget to print your logo on these corrugated food boxes to make it more memorable. The box food company prefers to use soft calligraphy with the touch of a single color to give minimalistic effects.
• Graze Food Subscription Boxes: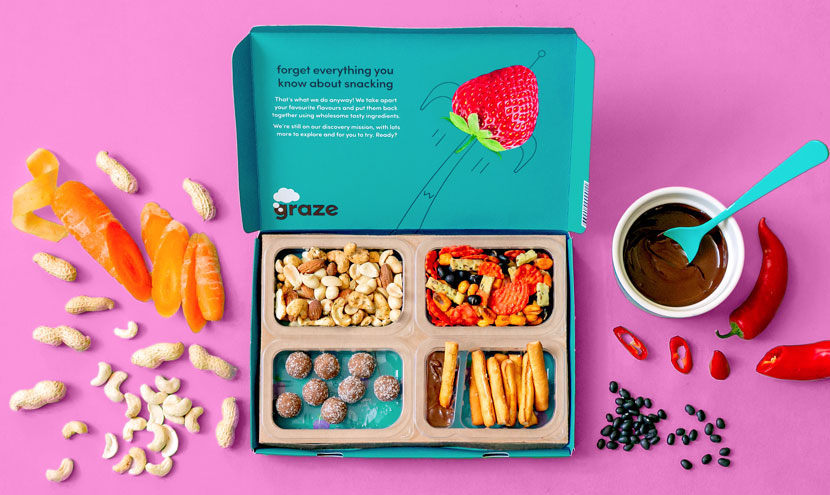 Graze is popular for its best food subscription boxes design. It provides a perfect mix of health and taste by introducing new flavors to entice the customers. The packaging is environmentally friendly and resembles custom cardboard lunch boxes. No artificial colors or flavors are added to the food items. The customers are provided with several options to choose from a variety of snacks according to their taste. The food delivery boxes suppliers pack the items ship them directly at your doorstep. It's your choice whether you want monthly subscription boxes food or gets them every two weeks.
• Ingenious Cut-outs:
Transparency is one of the biggest motivations for any box food company. Designing the packaging with windows or die-cuts let the products shine through their food boxes to go. When customers can view the product directly, this increases their trust in your brand. Window food boxes work much more than any other packaging design. Let us take the example of this attractive chocolate packaging. Each piece of chocolate is placed separately in an insert. The circular cut-out gives a luxurious display assuring to get a high-quality product inside. The customers can enjoy a tempting view of the chocolates through these transparent dessert boxes.
• All-in-One Beverage Packaging:
Among a variety of packaging designs, this TOGO burger is the best example of creativity and convenience. Such all-in-one packaging is ideal for both the fast-food industry as well as its customers. Instead of designing multiple food boxes along with a separate beverage packaging, it uses less paper, produces less waste, and cut-off your transportation costs. Above all, you can carry everything including burger, fries, ketchup, and cold drink together in the same package.