Christmas theme Favor Boxes for the Arriving Guests
For Christmas Eve a few days are left. Everyone is excited about the enchanted day year. Most of the people have already done with the Christmas party arrangement. If you are the one who is still confused about Christmas theme favor boxes, then relax here are some fantastic Customized Party Favor Boxes for you. Of course, you do not want to ruin the party by presenting the Favor in plain Favor boxes. If you have put so much effort into organizing parties, then why to leave a lope in the end.
Welcome you, guests, with Favor packed beautifully in Christmas Boxes
There is no doubt that Christmas theme favor boxes look unimaginable on Christmas party. But the question is from
where to buy this Christmas boxes
. You can get Favor Boxes Bulk from Packaging and printing companies in the United States. You can even provide the sample of the Christmas Boxes to them to
get personalized
favor boxes. Here are some trending Favor Boxes for you this Christmas.
When you are spending so much effort on organizing the Christmas party, then why to compromise on Flip Top Boxes With Magnetic Catch?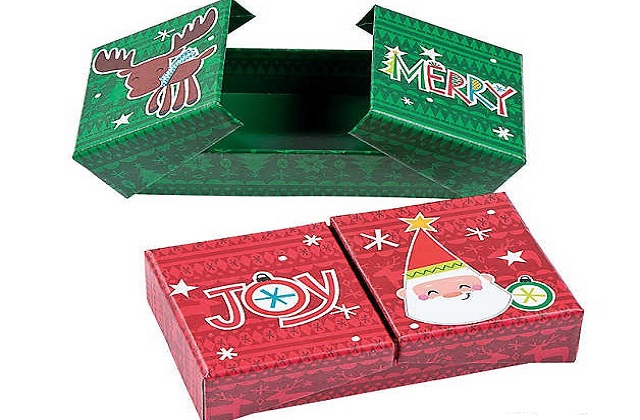 Have you ever tried to understand the essence of Favor? The reason for presenting favor boxes to the guest to show how valuable they are to you. In other word, you are thanking them for attending the Christmas party and spending their quality time with you. To make your guest special on this Christmas party Flip Top Boxes With Magnetic Catch are best for a favor. You can place donuts, cookies, or any other sweet in it. These boxes are also best for placing small gifts such as tie pin, pendant or tie as Favor. You can print these Favor boxes in the Christmas theme.
Christmas Pyramid Favor Boxes
When you are talking about favor boxes, the first thing that hits in the mind is square or a rectangular-shaped box. Why follow the conventional designs for Christmas boxes this year? Get Customized Party Favor Boxes in the pyramid shape. These pyramid-shaped boxes with a silk ribbon look gorgeous. These Christmas personalized favor boxes go perfectly with the Christmas theme party. If the kids are coming along with the guest, then get these wholesale favor boxes for them.
Christmas Tree Gable box
If you do not want something complicated and bold on this Christmas as favor boxes, then these Christmas tree gable boxes are best. These Favor boxes look more straightforward and sophisticated. But the Christmas trees on its top adding x-factor it. This box is simple yet trending. If you are looking for favor boxes that go perfect with adults and kids, then get this one. Get these from Favor Gift Boxes Wholesale in any color and size. These boxes are best for dry deserts, placing small gifts, and much more. If you are still confused about favor boxes design than these boxes will never disappoint you. The red color box with the green color tree will complement the Christmas Eve. Spread the magic of love this Christmas by giving favor boxes to your guests.
Are you arranging a Christmas party for your seven years old kid?
Are you arranging a small Christmas party at your place for seven years old kid's friend? If yes, then you must be looking for some favor boxes ideas. If you do not want fancy boxes for the party, then get Pillow favor boxes for a favor. You can bake cookies at home, or buy the cookies form a bakery and place them in these pillow boxes. You can purchase boxes bulk from any wholesale favor boxes' companies. The favor boxes shown in the picture go perfectly with the theme. The red and green favor boxes with the images of reindeer and Santa Claus will surely make kids happy. Place favor like candies, chocolates, or cookies in it and present to your little angles on this Eve.
Some Favor Gift Boxes Wholesale
Are you giving some desert and gifts as the favor? If yes, then you must need some spacious Customized Party Favor Boxes. Here are the perfect Christmas boxes that are spacious and fancy. The Christmas house boxes are perfect for accommodating all goodies in it. You can get these boxes in any size as per the requirements.
Why Red and Green?
Red and green are the Christmas color; why not think out of the box and get favor boxes in other colors? Blue, pink, or white also look amazing as Christmas boxes. For instance, the favor box in the images looks beautiful. The image of the air balloon and Santa clause depicts that these favors are coming directly from Santa.
Small Cardboard Boxes
On this Christmas, go for eco-friendly boxes. When you present these favor boxes to your guests, it shows how much you care for your mother's planet. By giving these favor boxes; you can spread the message of "Go Green." Welcome your guests with these cardboard favor boxes.